Discover more from Less Foolish
The writings and experiments of Peter Limberg.
Over 7,000 subscribers
Culture Heist
Tomorrow's events:
Stoic Breath w/ Steve Beattie. Everyday Sunday @ 10:00 AM ET.RSVP here. 

Memetic Mediation Campfire w/ The Memetic Mediators. Every Sunday @ 3:30 PM ET. RSVP here.

Metamodern Masculinity w/ Arran Rogerson. September 20th @ 6:00 PM ET. RSVP here.
An event to get excited about:
Unity 2020 w/ Bret Weinstein. September 21st @ 6:30 PM ET. RSVP here. RSVP by clicking the link below.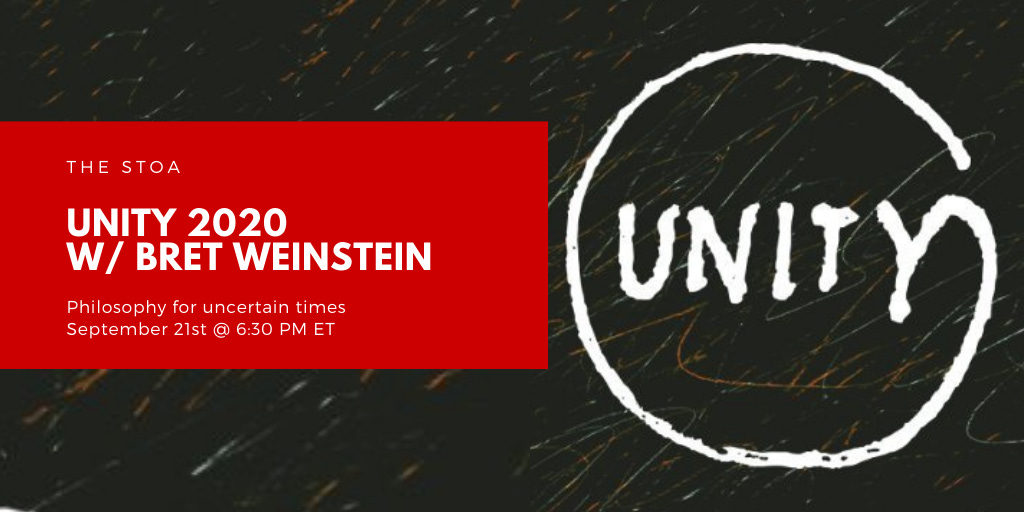 Bret Weinstein visits The Stoa on Monday to discuss his cancel worthy Unity 2020 plan.
***
September 19, 2020
The song you choose, or the song that chooses you, is important to consider, because this song will influence the vibe.
I take care in picking a song I listen to when I write. I also started playing songs at the beginning of each session at The Stoa when I facilitate. It is fun considering the right song for each session. Would this song vibe with the title and topic of the session? Would this song vibe with the guest speaker or the people who will likely attend? Would this song vibe with the essence of The Stoa itself, and all of its strangeness and uniqueness? 
The right vibe makes for a delicious experience, and DJ Delicious only wants you to have the tastiest time. There is a song I am listening to now, by Brockhampton, called No Halo, and there is a sexy voice that starts the song, and drops some hot truth: I don't know where I am going. Later in the song, the sexy voice says: I am sure I'll find it. 
I do not know where I am going but I do have a sureness that I will find it. Sometimes it is a cocksureness, other times the sureness is more precarious, but I am still sure enough. At the moment I am more on the cocksure side, and I got some of that big swinging daemon energy going on.
I know these moments will not last, and I will oscillate to deep doubt, and I sense this oscillation is a good thing. When I get into these cocksure moments I want to write boldly, and guard my premises lightly, and risk the cringe. When I was in these moments before I used to write about things like emancipating the daemon, winning the liminal war, and stealing the culture.
This all made me sound like a comic book, and after an existentially humbling summer, I stopped sounding like a comic book. I still like comic books though, and our culture seems to be into them, so maybe it is time to start sounding like a comic book again. 
Jamie Combs, the creator of the 4Games model, sent this to me the other day: IMO, this MetaGame territory you're conceptually, linguistically & digitally opening up is brilliant & timely. Playfully paired, as you do, with "Steal The Culture" it's a delightfully overt, challenging, inclusive, sincere, catchy & roguish LongGame teaser.  Elegant & powerful. 
He then dropped the phrase "culture heist." Wow. I love that phrase. On March 25th John Vervaeke came to The Stoa and first used the "steal the culture" line, which my boy Akira The Don created a song from that is totally worth vibing to. 
So yeah, a culture heist; is this the long game The Stoa is involved in? Is this the narrative we can vibe to, while snapping our fingers, tapping our feet, and getting into the right relationship with everything? And why not? If we are going to burst some collective limiting belief bubbles, the time is now. 
Why can't we have fun making the world a better place? Why does this "place" have to have some boring ass business model? Why can't we Stoics be raw, sexy, and edgy? And yeah, why do you want a guarantee anyways? Let go, impermanence now baby. 
Any good Stoic emotionally prepares to say goodbye before they say hello, and I am ready to go, and this makes me want to move, with a go, go, go energy. Let us strike when the thumos is hot, and right now it is fucking burning.
We will be criminals in the liminal, and with serious play we will steal back what is rightfully ours. I still do not know where we are going, and it feels really good being cocksure about this.
***
The Stoa has hosted over 300+ free events since the pandemic started, and it will continue to do so, but it could use your support to continue to do so with quality and integrity. Support The Stoa @ https://www.patreon.com/the_stoa