Escape the Algorithm
Hey beautiful people,
I hope you are doing well. A quick update: Raine Revere will be leading a project to update The Stoa website, which can be found @ www.thestoa.ca
We'll have a "focus group" session on this as well at The Stoa, which I will post tomorrow. In the meantime, please fill out this brief survey to tell us how you think the website can be improved:
https://forms.gle/dMMjfr1RF28u7NYJ8
Tomorrow's events:
Stoic Breath w/ Steve Beattie. Every Wednesday @ 7:00 AM ET. RSVP here.

Equality Complex w/ Liam Kavanagh. September 23rd @ 12:00 PM ET. RSVP here.

Social Design Club w/ Freyja and Joe Edelman. Every Wednesday @ 1:30 PM ET. RSVP here. Join the club here. 90 mins.*
*From Joe: On Sep 23, we'll interview a few participants about bad experiences they've had in dating. Then we will try to redesign the social norms and social systems involved.
An event to get excited about:
God Bless the Broken Bones w/ William Ferraiolo. September 24th @ 7:30 PM ET. RSVP by clicking the link below.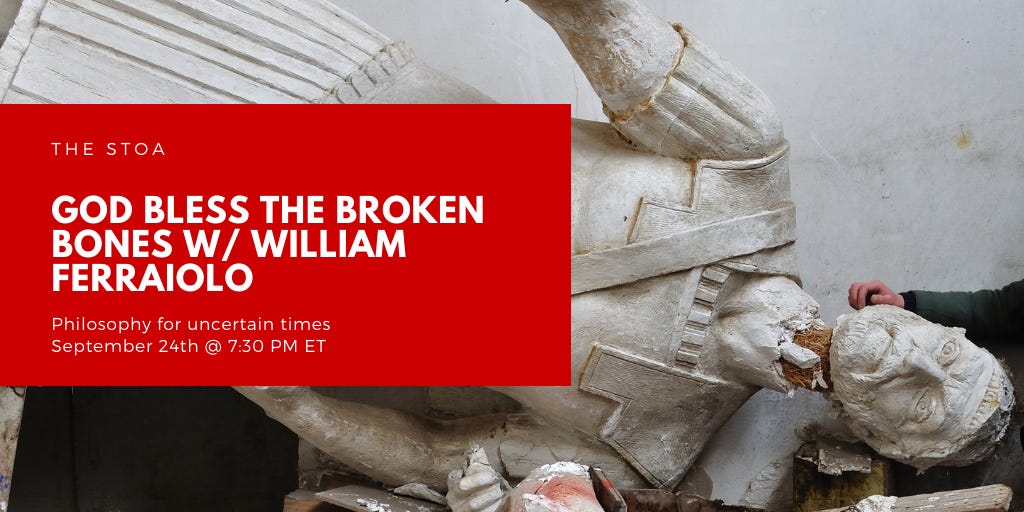 The Stoa finally has a real Stoic on! Stoic bad boy, William Ferraiolo, visits The Stoa to discuss his new book, God Bless the Broken Bones. This session will be facilitated by another Stoic, Michael Tremblay, who himself was a previous guest at The Stoa.
***
September 22, 2020
It is the first day of fall, and yesterday was the six month anniversary of The Stoa. I forgot about that. I was going to throw a party to celebrate, but that got lost amongst all of the other activities I have been doing. 
I was reminded of this because I just happened to be listening to Jordan Hall's first appearance on The Stoa, which was 6 months ago. I am planning on uploading the majority of recorded sessions onto The Stoa podcast, so I can listen to them all. I have not attended all the sessions myself, and the ones I did attend I was distracted by facilitating, hence I could not fully feel the impact from all the wisdom bombs being dropped. 
I am in a pleasant state at the moment. I always love it when fall arrives. It is my favorite season. If you visit Toronto now you might see me in a park frolicking amongst the falling leaves, with a cortado in one hand, and a deep book in the other, wearing a super stylish coat, while listening to Sufjan Stevens or Belle and Sebastian or some super sensitive stuff like that. 
I am listening to Belle and Sebastian right now, it is good autumn music. "Get Me Away From Here, I'm Dying" came on, and I like the lyrics that mention the boy with naivety—who thought there was love in everything and everyone—who surprisingly succeeds with a winning smile.
There are so many interesting characters who visit The Stoa on a regular basis. It is heartwarming letting everyone from the waiting room into the Zoom room, and seeing their winning smiles when they hear what song DJ Delicious has for that day. There are so many regulars I'd like to acknowledge, but the person who is coming to mind today is Anjan.
He is an enthusiastic, good-natured and a really smart guy, who always comes 20 minutes late to sessions but somehow still manages to ask dope questions. To get an idea of his energy, he first contacted me in May, with this note: Peter I love the shit out of the way you write. 
Yesterday at Derrick Jensen's event we were privately messaging in the chats, and he wrote me this: dude you find amazing people. Followed by: I'd likely never come across these people or even if I did, I'd never 'click on them'... seriously broadened the people I learn from.
Similarly, after a Doug Tataryn event, when he was in the hot seat, he emailed me this: I would be hard pressed to imagine me coming across Doug & Bio-Emotive without the Stoa. You've really impacted my life in a tremendous way already. Thank you for creating a community I feel at home at, the first community where I actually have felt that.
I responded to him in the private chats yesterday about how The Stoa is a place where we escape the algorithms, and he suggested the motto of The Stoa be: escape the algorithm, find your meta tribe. Seriously, where else are you going to find Zak Stein, Aleksandr Dugin, Derrick Jensen, and Bret Weinstein speaking on the same day, bookmarked by breathwork and freestyle rap sessions?
You're only going to find this at The Stoa. I have not watched it yet, but the hot new documentary is Social Dilemma, which is about the detrimental effects that social media algorithms have on our society. I researched this when I was writing about the culture war, and it is really messed up. 
Things like disabling the YouTube comments, and making this place hard to find, and hard to "thin slice" due to our weird code-switching ways, all helps with escaping the algorithm. The most important aspect of The Stoa is that it is in person, because this is where all the messy and raw dialogue occurs. 
Somebody who recently supported The Stoa via Patreon suggested to have some kind of conceptual onboarding process to get a sense of the place: A bit of feedback is that it was a little confusing for me at first because I didn't understand the origin story or realize how recently you had started… So I guess the feedback is that maybe new people are coming in now and will need a bit of orientation.
I responded: I do like the bespoke adventure needed to get here though. I do not want to make it too easy for people, as there is no mystery in what is easy. Which prompted her to reply: Ah… I got in through a secret passageway… That's fun. :D
The secret is people like being a tad disoriented. The juxtaposition of seeing a place that people are excited by, yet which is obscure, and strange, and escapes algorithms, is attractive. It creates a mystery, and people like mysteries. Why make everything obvious, especially when it isn't even obvious what this place is for me. 
People are finding it, and discovering what it is on their own terms. My new friend Margaret wrote to me recently: My intuition says that this has been a process of mutual discovery, The Stoa and I discovering each other. Yes. A mutual discovery is the best way to frame this.
An uncommon preference I hold is that I really dislike TED Talks. Sure, some really smart people come on there, and tell you really smart things, but it is the whole feel of the thing I do not like. It is too slick, and there is no mystery. I call it "neutered wisdom," because there is an impotent obviousness to it all, and all the speakers have to be Blue Church kosher of course, Dugin and Jensen are not the types that get invited to TED Talks.
The Stoa is not about consuming neutered wisdom, it is about discovering real wisdom, together. If you are reading this, you have found the secret passageway, and you are now a part of the discovery. Let others in on this secret place, the ones who you sense are ready. Just give them enough information though, do not sell it too hard. A good mystery does not need to be sold.
***
The Stoa has hosted over 300+ free events since the pandemic started, and it will continue to do so, but it could use your support to continue to do so with quality and integrity. Support The Stoa @ https://www.patreon.com/the_stoa