Fuck Bodies, Holy Sluts, and the Horny Sage
Hey everyone,
FYI. Zak Stein will be visiting Gregg Henriques at The Stoa tomorrow, for Greg's Sensemaker in Residence series. You can RSVP below.
Tomorrow's events:
An event to get excited about:
Existential Kink w/ Carolyn Elliott. October 25th @ 5:30 PM ET. RSVP by clicking the event below.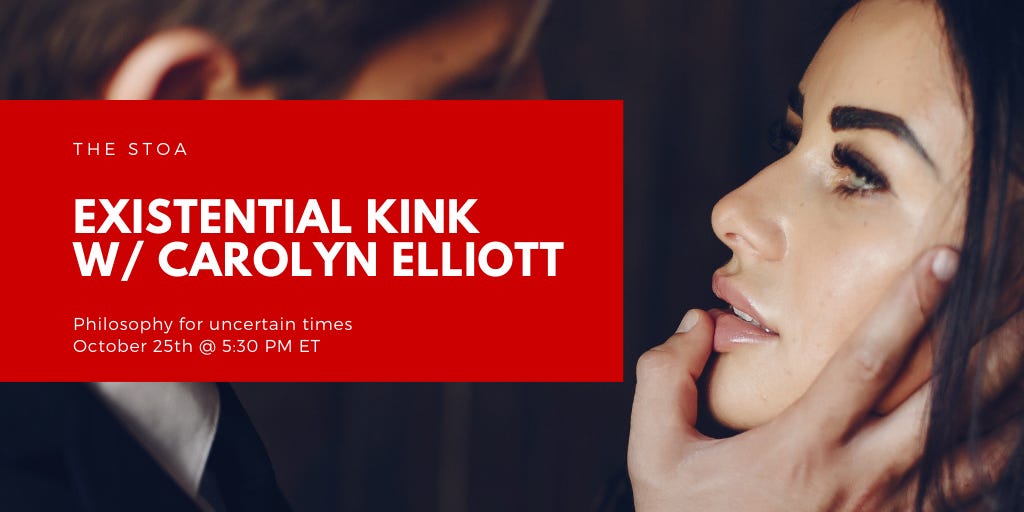 Carolyn Elliott visits The Stoa to discuss her book and methodology, Existential Kink. Maybe Gray will be the host. It is time for us to get yummy with that shadow-work y'all.
***
October 21, 2020
Stoics look up to a figure called the sage.
Basically that dude or dudette who has attained sagacity, that is to say they're perfectly virtuous, and because of that they are perfectly serene. Now I do seem serene at times, but I am no sage, and I am never going to be one. Stoics doubted if this sage attainment was even possible, maybe our homeboy Socrates reached it, but that is about it.
They thought of the sage as this impossible goal, probably as a way for us Stoics to strive to be virtuous in ways not thought possible, and to be kept humble, so we do not deny we have unvirtuous warts. Even if these warts are currently not in the purview of our consciousness, we Stoics suspect they are somewhere, so we are on the lookout, and we do not get too cocky.
I am not only at the risk of becoming dysdaimonic, but I am also at the risk of becoming cocky, and the latter probably leads to the former. What does cocky even mean? I looked up the definition: boldly or brashly self-confident.
I even like how the word comes out of one's mouth ... Cocky.
Yeah, I can become cocky, maybe I am a little cocky now. Sometimes when the thumos is running high, which is usually all the time these days, I want to strut into a Zoom room like Conor McGregor, and announce via my existential swagger that the king has arrived. 
I am horny all the time as well. This is why I probably cannot help but use sexual analogies and innuendos all the time, like I just did with placing the words mouth and cocky so close together. 
Yes, I am wildly attracted to women, but I am very good at containing myself. I am very sensitive about not making a woman uncomfortable, and the worst thing for a man to invoke in a woman is creepy-vibes. Dudes who invoke those vibes have no understanding of sexual or social dynamics, aka they have no game.
My horny energy is not fixated on anyone though, and it feels more channeled towards this project. This channeled horniness, and potent thumos that I have, plus the accolades I am receiving for doing what I am doing here, is a recipe for developing cockiness. Being cocky feels good though. It makes you feel ready to fuck.
In a previous session at The Stoa, somebody said they wanted to fuck the world, and he said that in an empowered way, to convey how spiritually powerful it feels when this sexual energy is channelled. I countered:
Making love to the world is different than fucking it.
A guy like Trump, undeniably has that thumos. He has ridiculously high energy. But it is not channeled towards virtue. He wants to fuck the world, not make love with it.
In an entry when so much libidinous energy was coursing through me, I wrote the following: Stoics are embodied philosophers, guided by prudence, who want to make love to the world, and, sometimes, in order to make love in the right way, you have to fuck in the right way.
To be a good lover, sometimes you need to be sweet and tender, but sometimes you need to fuck. So my working theory is this: in order to make love to the world, you have to have the capacity to fuck the world.
If you are just fucking it all the time though, without love, then that is that "Game A" rivalrous shit. The fucking, when it is wise to do so, needs to be in service towards love. Now maybe I am at the risk of stretching this analogy, and I am probably making a few people uncomfortable with this language, but I do think there is something here, and I will get to this in a moment, but I think it is related to the sage.
In the book The Radicality of Love, Croatian philosopher Srecko Horvat introduced the term "fuck bodies," which I think is quite descriptive of our current sexual market place:
In the age of "cold intimacies"—a term coined by Eva Illouz to describe the new emotional culture of late capitalism—the encounter is often pre-programmed. In the age of "fuck buddies" people often just become fuck bodies. 
Or similarly, to paraphrase manosphere author Jack Donovan, our current hookup culture is like masturbating in somebody else's body.
Becoming a fuck body is something that is happening for both women and men. Yeah, the "male gaze" has a sexual objectivity bias to it, as men are visual creatures, but men these days are pressured into becoming fuck bodies as well. The PUA movement put emphasis on "cold approaches" to meeting women, which does require discipline and courage. Now young men seem to be drifting towards something called "looksmaxing."
This has become associated with the incel movement, or involuntary celibates. These are heterosexual men who want to have sexual relations with women, but cannot because they believe, rightly or wrongly, that the women they want to have sex with do not want to have sex with them. Moreover, they feel looked down upon by society, by men and women alike (or by the Chads and Staceys), which in turn turns them bitter. It is one of the memetic tribes that have an extremist element to them, and they have turned violent multiple times. Toronto has seen this, as we've had an incel terrorist attack a few years ago.
I think the thing that launched "looksmaxing" amongst the incel scene was a Tinder experiment called the "atomic blackpill," which was apparently a real experiment, which apparently other incels have replicated. The experiment consisted of creating a fake profile using a photo of a ridiculously hunky male model, and then wrote crazy shit to see what they could get away with. They call this "chadfishing." 
The following is from a wiki for the incel community:
The science of Tinder experiments became so widespread that incels around the globe found out that women only cared if a man is a muscular jock. Various media outlets such as a popular Israeli newspaper reposted the experiments. This flew in the face of decades of gynocentric indoctrination, which taught men that women are less shallow than men and need to be stingier with sex to properly evaluate men's character.
Regardless if you think there is truth to the incel claims or not, what is true is that the belief exists, amongst incels and related memetic tribes, that looks are central. They believe becoming a fuck body is a strategic move in today's sexual marketplace, and I do not think they are totally wrong, especially when the swipe-right dating apps are the way a lot of people are hooking up these days.
This whole fuck body thing is similar to what C. Wright Mills calls the "marketing mentality." As we wrote about in the memetic tribe white paper:
This is a mentality that encourages Frankfurtian bullshit, uses friendliness as a tool, and is ready to sell and service the other. This incentivizes individuals to treat one another as instruments. In Buberian terms, they engage in I-It relating. By doing so the individual transforms himself into an instrument, ready to be used by the other.
People are instrumentalizing themselves, turning into anthropomorphized dildos and fleshlights, so they can be used by others, and can use others in return. Now, I actually think it is wise to make your body more fuckable, within reason, but doing so out of love for your own eyes, and for the eyes of others. Like Collin Morris and I chatted about, you can repurpose the desire to look good naked towards virtuous reasons.
I do not think we should shame away this phenomenon. Instead we can repurpose it. Let us view pathological byproducts of "Game A," such as sociopathy inducing pick-up artistry and becoming atomized fuck bodies, as exaptive skillsets that help us in the liminal while we move towards "Game B."
Daniel Görtz, in his excellent Metamodern Deep-Dives series at The Stoa, did a session on sexuality this Monday, and he mentioned a term that caught my attention: holy sluts. He views one of the "metamodern endpoints" as an emergence of a masculine surge, that leads to competent and attractive men, who can help release the holy slut.
The holy slut, according to Daniel, is when a "benevolent patriarchy" emerges, that does not shame women's carnal sexuality, which is not always aligned with a monogamous lifestyle. Basically, this new metamodern man Daniel is talking about can "hold space" for the complete sexual reality of a woman, without shaming it nor trying to control it. 
This is not to say that all the old ways should be thrown out the window, or that monogamy will not still be the preference for some, or even the majority. This is more about acknowledging the reality of who we are. There is a side of us that wants to become fuck bodies, that are in service of wanting to fuck, and sometimes we want to fuck multiple people.
I totally know that I risk being cringeworthy in these journals by jokingly referring to myself as Stoic Daddy, so I probably should stop soon, but this is my playful way of gesturing towards releasing the holy slut. 
In certain sex-positive subcultural communities, "daddy" is used in a way not only to refer to age differences, but to invoke the sense of a certain power dynamic, and yeah, women get turned on by power dynamics. If you have doubt about this, maybe ponder why Fifty Shades of Grey was the fastest-selling paperback of all time in the UK, or why it topped bestseller lists the world over.
It is a poorly written book, I know because I tried reading it, but if I was a heterosexual woman I am sure I would get hot and bothered by that traumatized mega-rich bad boy that is Christian Grey. He is a fantasy, and if book sales are any indication, this fantasy has been serving as a "supernormal stimuli" for many heterosexual women.
I think Jordan Peterson is right when he says, and I am paraphrasing here: women are not attracted to the man who has the gold, but the man who can get the gold. This is where I think the incels overreached in their interpretation of those chadfishing experiments. Let us assume they were true, and very attractive young women were attracted to hot psychopaths. 
Firstly, you can bifurcate attraction to being physically attractive and having an attractive personality. Yes, being both a physically hot man with a hot personality will be more attractive overall compared to someone who is just hot in one domain. This is where a lot of men, especially in the men's rights movement, fail to grok when they complain about "divorce rape" and things like that. I am supportive of men having rights, but I am also supportive of men becoming knowledgeable on how to become more attractive, and not just in the physically obvious way that looksmaxing is fixated on.
Secondly, the cliché is pretty much true: on a visceral level some women do dig bad boys. It is not wise to draw rushed conclusions from this though. I think the "attracted to the bad boy" phenomenon exists for two reasons: 1) bad boys display the character-traits of "getting the gold" via signaling confidence, boldness, and a zero fucks given attitude, and 2) they trigger a misplaced nurturing instinct in women towards healing a traumatized Cluster B type, which ultimately leads to codependency.
This is what the Stoic Daddy joke, or to use Andrew Sweeny's word, "ruse," is in service to. It is a metamodern bait-and-switch. As I mentioned before, us Stoics may have to be tricksters, and a part of being a trickster is becoming a "performative narcissist," which I wrote about before: If we are going to steal the culture we cannot be narcissists, that puts us at risk of getting hijacked by the demons, but we will have to be performative narcissists to be effective in the spectacle.
Along with performative narcissism we may also have to be performative bad boys and bad girls, as a form of spectacle bait. Our "metamodern sex columnist," Maybe Gray, has a lot of wisdom here. As I mentioned before, she knows what she is doing. This is why I am happy for us to risk being somewhat flashy (and naughty) at The Stoa. The greatest trick to pull off is one you do in the open, with complete transparency. 
Besides, I do get turned on at the thought of being a "daddy," in the sexual sense, to Camille, and to multiple other women. I do not think it is prudent to indulge in this desire too much though. I do think there is a time and place for it, and I do not think it is wise to deny this desire either, but it is not virtuous to allow your desires to design your lifestyle for you. 
The Stoic sage is perfectly wise, and serene, and navigates life with prudence. They are also loyal to the cardinal virtues, including temperance, which means they do not indulge in their sexual appetites, or get yanked around by them. They do not follow the desire to fuck in a way that would fuck them over. This is not to say they cannot be massively horny though, or that it is below them to co-opt some of the superficial qualities that "work" in the spectacle or sexual marketplace, aka the Game A world. 
If it is not below the sage, it is not below me either, and yeah, I would not trust a sage who does not get horny.
***
patreon.com/the_stoa