Heaven Yeah
Tomorrow's events:
Embodied Book Club: Collective Presencing w/ Ria Baeck. Every Saturday from October 3rd to November 7th @ 12:00 PM ET. RSVP here. 90 mins. Review the information sheet here.

The Glass Bead Game w/ Laurence Currie-Clark and The Arch. Every Saturday @ 6:00 PM ET. RSVP here. 120 mins
Newly posted events:
High Pitch: Conversations in a New Key w/ Bonnitta Roy, Ria Baeck, Ece Utkucan Anderson, Schuyler Brown, and more. November 5th, 12th, 19th, and 26th. 12:00 PM ET. RSVP here.

Men & Women: The Future of Love, Sex and Friendship w/ Nina Power. November 6th, 13th, 20th, and 27th. 10:00 AM ET. RSVP here.

Sensefully Sensemaking the Hollow w/ Bonnitta Roy. November 6th and 13th. 2:00 PM ET. RSVP here.
An event to get excited about:
The Narratives Project w/ Shaun Cammack. November 4th @ 8:00 PM ET. RSVP here.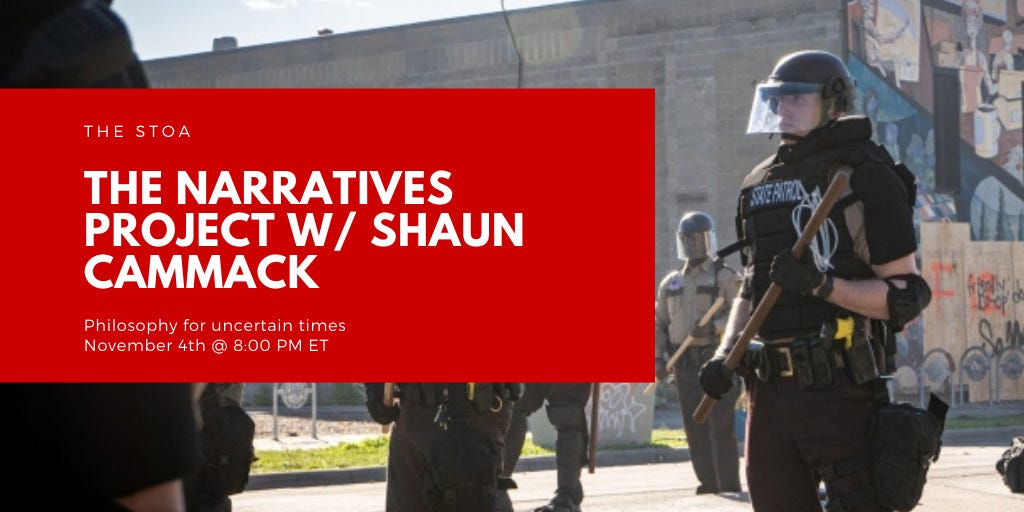 Shaun Cammack visits The Stoa to discuss The Narratives Project.
In the immediate aftermath of a politically divisive or morally outrageous event, narratives quickly emerge on either side of the issue—often mutually disparaged as fake news. The Narratives Project studies the evolution and divergence of these political narratives to help our readers better understand the stories emerging around them.
***
October 30, 2020
Derek Sivers visited The Stoa last week, and he said he loved his experience, and he definitely wants to come back. Derek is pretty awesome, and he is for sure a daemonic kindred spirit.
Derek is known for many practical ideas, one being his "hell yeah or no" heuristic. From Derek's website:
If you're not saying "HELL YEAH!" about something, say "no".
When deciding whether to do something, if you feel anything less than "Wow! That would be amazing! Absolutely! Hell yeah!" — then say "no."
When you say no to most things, you leave room in your life to really throw yourself completely into that rare thing that makes you say "HELL YEAH!"
I agree with this, but I prefer a "heaven yeah" phrase, as the Christian in me does not like affirming hell, even if it is in a playful colloquial way.
The Stoa is a project that is entirely based in the spirit of heaven yeah, however, I have said "yes" to a few things recently, related to The Stoa and elsewhere. This led me to half-ass those things, and eventually led me to drop out of some of them entirely, which may have damaged relationships.
The lesson for me here is simple: before agreeing to something, especially something that requires a time-commitment and/or an expectation of completion, deeply feel into the desire to agree. Get intimate with what a yes feels like, and what a heaven yeah feels like, and become disciplined in choosing the latter.
***
https://www.patreon.com/the_stoa