Let Men See
Tomorrow's events:
Naturalising Sense-making w/ Dave Snowden. September 3rd, 10th, 17th, and 24th. 2:00 PM ET. RSVP here.

Applied Complexity w/ Joe Norman. September 10th @ 8:00 PM ET. RSVP here.
Newly posted event:
Metamodern Masculinity Round 2 w/ Arran Rogerson. September 20th @ 6:00 PM ET. RSVP here.
An event to get excited about:
Metamodern Deep-Dives: Art, Spirituality, Sexuality, and Faith w/ Daniel Görtz. October 5th, 12th, 19th, and 26th. 10:00 AM ET. RSVP to the event by clicking the image below.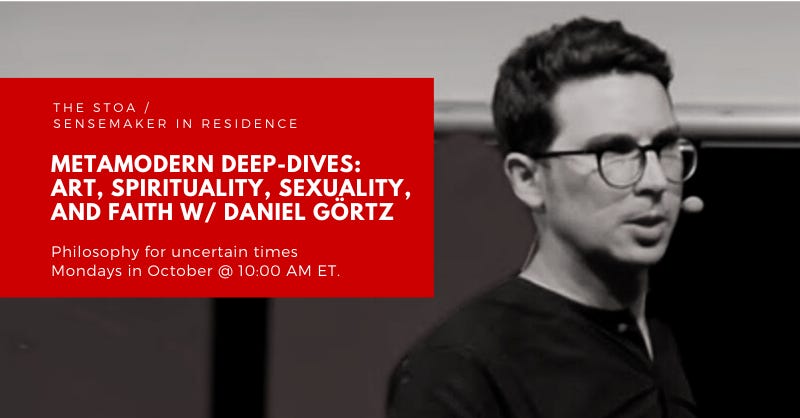 Daniel Görtz, one half of Hanzi Freinacht, will be one of the "Sensemakers in Residence" for October. Daniel will explore four interrelated topics that have largely been left out in the online publications and the Hanzi Freinacht books (which focus on psychology and politics):
Metamodern aesthetics and arts,

Metamodern gender, sexuality, and family relations 

Metamodern spirituality 

Metamodern religion
This is a special occasion to delve into and discuss sides of metamodernism, its culture, and philosophy, which are not part of Metamoderna's usual focus areas. Here, you get to walk on thinner ice and into more sensitive and intimate realms of this emergent culture. 
***
September 9, 2020
"Let men see, let them know, a real man, who lives as he was meant to live." - Marcus Aurelius
On Monday we had a session on Metamodern Masculinity hosted by Arran Rogerson. It was a good discussion, and I thought I expressed some good opinions.
I am feeling pretty masculine these days, or maybe I am just feeling aggressive. I am not in the "beat my chest like a gorilla" mode yet, but it could be heading in that direction. I totally can see me wanting to swing my big daemon around to knock some fools out.
I am in a sensitive mode as well, which is oddly mixed with this aggressive stuff. I keep listening to this song called "Ontario" by Keaton Henson, who is one of those super-sensitive folk-rock guys. Maybe it is this line that is making me return to this song: I'm off balance but I feel my soul.
When I wake up, with an aporia boner, I stumble my way to my old friend, the espresso machine. I make an espresso, open up my laptop, and start writing. I do this to find my balance. I do this to feel my soul.
This is a strange emotional mix. I like it though. There is this fuck you energy going on. One that says keep your eyes on me, because I am about to wildly beat my chest. This is coupled with me wanting to gently nibble on your earlobe, while boyishly giving you a peek at my heart, while I playfully try to sneak a peek at yours.
I sense there is something here, with this mix. During the session on Monday, I expressed my opinions on masculinity, which I'll express again now: there are two dominant intersubjective narratives on masculinity trying to gaslight us.
On one hand you have this alpha male dude-bro script, which is a mutated version of traditional masculinity. You should not cry, or express your emotions. You need to have sex with hundreds of women, and you should be "killing it" in life. It does not matter what you're killing, as long as you're killing, you're good.
Fairly or unfairly this has been labelled as "toxic masculinity" by the woke tribes, who have a countervailing narrative, which states gender is a construct, and masculinity, or masculinities, can be anything you want them to be. Traditional masculinity is problematic, and yeah, poo-poo on you if you are also white, heterosexual, and Christian.
These two narratives do not speak to guys like me, and both are alienating. There is another, less dominant narrative—in our collective shadow that is bubbling up—as seen in the manosphere or manosphere-adjacent types like Elliott Hulse, Jack Donovan, and Bronze Age Pervert.
These types have an uncompromising philosophy of masculinity, who revere traditional masculinity, along with the politics and worldviews required to uphold them. Some of this is a LARP, but most seem earnestly held, and coherently argued.
I will label these three versions as: dude-bro masculinity, woke masculinity, and reactionary masculinity. It seems that woke masculinity is reacting to dude-bro masculinity, and reactionary masculinity is reacting to woke masculinity. There is also this California "embrace your divine masculine" stuff, as well as the Jungian mythopoetic "beat drums in the woods" stuff.
None of these really land for me, and what I dig about the promise of a Metamodern Masculinity, and Metamodern Stoicism for that matter, is the possibility of something that is not a reaction. It is time for a conversation on masculinity to occur that is responding, truthfully, rather than reacting.
Men on a whole are off-balance, and The Stoa is here to offer some balance. I imagine these conversations are going to be triggering and unpleasant. They will not be shamey or overly prescriptive, and they will be nuanced to the complexities of our metamodern world.
Virtue is coming to mind. When virtue comes to mind my mind feels peaceful. I know some people view the term as antiquated, but whatever, virtue is not meant to be fashionable. I would argue that it can be stylish, which is something different than being fashionable.
Overall, I am not writing here to sell answers. I am writing here to ask questions and humbly attempt to answer them. I want to let men see that you can be a man, with thumos, without having to know. I also want to let them see that you can do this with soul.
***
The Stoa has hosted over 300+ free events since the pandemic started, and it will continue to do so, but it could use your support to continue to do so with quality and integrity. Support The Stoa @ https://www.patreon.com/the_stoa