Netplay Your Way to Game B
Tomorrow's events:
Stoic Breath w/ Steve Beattie. Every Wednesday @ 7:00 AM ET. RSVP here. 

Social Design Club w/ Freyja and Joe Edelman. Every Wednesday @ 1:30 PM ET. RSVP here. Join the club here. 90 mins.

Deep Politics w/ Peter Dale Scott. September 9th @ 6:30 EST. RSVP here. 
Newly posted events:
Surrendered Leadership w/ John Thompson. September 22nd, 2020 @ 12:00 PM ET. RSVP here. 90 mins.

The Acid Left w/ Adam Ray Adkins and Mike Watson. October 15th @ 12:00 PM ET. RSVP here.
An event to get excited about:
Socratic Social w/ The Stoa Village. Every Friday @ 6:30 PM ET. 90 mins. RSVP by clicking the image below.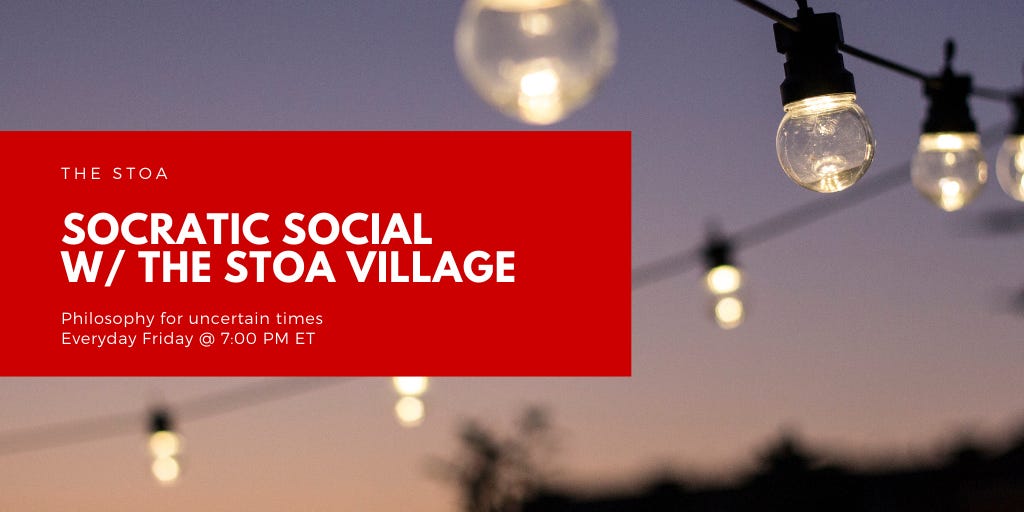 Socratic Speed Dating has been rebranded to Socratic Social.
Join the village every Friday @ 7:00 PM ET to socialize and philosophize. The host will rotate each week. Raven will start us off. :)
***
September 8, 2020
One thing this Metamodern Stoic Cowboy/Daddy/Punk likes about journaling is making up new concepts, such as Political Aporia or Temporary Autonomous Stoa, and then exploring their conceptual possibility. Since these are journals, which encourages an exploratory vibe, doing this feels intrinsically playful. 
I want to play with another term, one I did not make up, but which is quite good: netplay. Maybe Venkatesh Rao coined it, as I first saw it used by him in one of his consulting newsletters: Don't network. Netplay instead. If it feels like conscious "work," you're doing it wrong. At best you'll gain short-term transactional benefits. Your network is ideally a positive externality of playing social games you actually take pleasure in.
Brilliant. I used to teach interpersonal workshops when I was actively training at Dale Carnegie Training, and the ones that were always well attended were about "networking," and the people who attended these did so because they wanted a job. Instrumentalizing people to get something, aka a job, is yucky. Networking is so Game A. This is what is prevalent though. Bullshit jobs create bullshit personalities.
I recommended to them to stop networking and start netplaying, and they looked at me like I was some handsome hippie selling them chakra bowls, but after allowing the concept to sink in, they were resonating with the advice. 
If you want your network to increase with a sense of effortlessness, then throw yourself in things that feel playful, and which require meeting others. You can totally wu-wei yourself to a new job, a new friend, and a new lover. I am sure you have many examples of this, here are a few of mine ...
Running my super-secret underground debate club in Toronto introduced me to Lubomir Asrov and Conor Barnes, who eventually became creative collaborators. I wrote the Culture War 2.0 white paper with Conor, and that paper introduced me to Jordan Hall, who became a mentor for a while. The whole metamodern community also found me because of that paper, along with being invited to a slew of podcasts, the first being Daniel Thorson's Emerge podcast. Daniel is now a buddy of mine.
It also led to two appearances on Rebel Wisdom, and that led me to become good friends with David Fuller and Alexander Beiner. I am their Toronto correspondent now and was their community manager for a brief moment, before the daemon told me to create The Stoa. 
I got offered the Ambassador role for the Letter platform because they dug my Hippocratic Oath for the Culture War piece. This led me to travel to San Francisco when they had their Y Combinator interview. That was a fun adventure that I had no idea I would be a part of when writing about good-faith conversations.
Doing my own podcast was an amazing way to meet new friends and collaborators. It reintroduced me to John Vervaeke, and that put us on an adventure researching conversational modalities together, and this led me to introduce him to Circling and Guy Sengstock, who I also met when he came on my podcast. That introduction inspired the dialogos project. 
Organizing my two in-person meetup groups in Toronto increased my connections greatly, my Stoicism group became the largest Stoic group in the world, which led me to Athens, the birthplace of Stoicism, where I spoke at last year's Stoicon conference. And now I am doing The Stoa. So many awesome new people are coming into my life because of this thing. I am finally feeling like I am finding the others.
All of this stuff—my writings, my podcast, my meetups, and now The Stoa—were all done without any initial consideration of money, nor was I instrumentalizing people to get things. I was just listening to the daemon, which means I was just playing. And thanks to this, my network is now pretty awesome, with super interesting people, who I have been going on fun adventures with.
Networking is so Game A and netplaying is so Game B. If you have no idea what this "Game B" thing is, well, neither do I really, but here is my simple definition: a game we collectively play that moves to an "omni-win-win" world and away from a "omni-lose-lose" world. Working in the old way is broken and it has led to us feeling broken. Playing in a new way is nourishing and it will lead us to feel nourished. 
It is hard to rationally engineer this. It is wiser for us to drop into unknowingnesss, and listen to what whispers to us most deeply, because it is those whispers that are asking us to play towards a new world.
***
The Stoa has hosted over 300+ free events since the pandemic started, and it will continue to do so, but it could use your support to continue to do so with quality and integrity. Support The Stoa @ https://www.patreon.com/the_stoa