Temporary Autonomous Stoa
Tomorrow's event:
Memetic Mediation Campfire w/ The Memetic Mediator Crew. Every Sunday @ 3:30 PM ET. RSVP here.
Newly posted events:
An event to get excited about:
The Digital Porch w/ Daniel Schmachtenberger. October 5th, 12th, 19th, and 26th. 7:30 PM ET. RSVP by clicking the image below.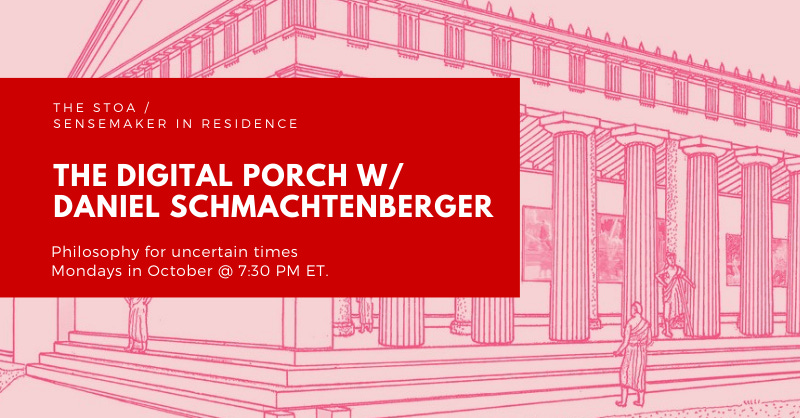 ***
September 5, 2020
It is Labour Day Weekend, and there is an essence of quietude all around me, except for little Socrates. He is running around and making strange sounds. He seems confused, or maybe I am projecting, as confusion for me is never far away. I think he is officially one year old now. I love this crazy cat. Camille and I picked him up on a whim, and it is probably the best whimming we have done. 
I created The Stoa on a whim as well, and I invite most guests on a whim. Everything is somewhat whimsical here. To return to that Hermann Hesse quote I love so much, which maps over well to this whimsical essence: To be able to throw one's self away for the sake of a moment, to be able to sacrifice years for a woman's smile—that is happiness.
It is true that this Stoic Daddy is usually turned on, and filled with libidinous energy, but I am not sacrificing years for women's smiles. I am being seduced by something else and I have called this something else the daemon. I probably have been using this term in such a way that maps over to what Ned Block called a mongrel concept. This is a concept that "connotes a number of different concepts and denotes a number of different phenomena." 
But whatever man. I get bored when things get too conceptually nerdy. The daemon concept is just a proxy towards whatever this delicious intuitive thing is. When you become a connoisseur of your internal happenings, you stop blunting your direct experience with borrowed words. 
Sometimes you have to make up a word to describe something, or find an old word that most people stopped using, and that is what I have done by using the word daemon. What keeps me in the stewarding game is the adventure that comes with listening to the daemon. Listening offers no guarantees, and it demands I get into the right relationship with unknowingness in order to listen clearly.
Someone who recently supported The Stoa via Patreon wrote me this: I don't know exactly what this strange attractor is that you've midwifed into existence, but I want it to continue existing. Yeah, same here, and the midwife metaphor feels right. Socrates—the philosopher not the cat—considered himself a midwife, who listened to his daemon. 
To run with some more daemonic thoughts, I wonder how far The Stoa as a concept can be mongrelly stretched. I have expressed concern before that this place will be simply considered a YouTube channel or a podcast. When we received a mention in New York Times, the author called The Stoa a podcast. When I told her it was not, she just changed it to a "philosophy podcast." Oh man. Stoics can sigh as well. 
I get it though. When you are incentivized by things outside of listening to the daemon's whispers, like making money or getting attention in the attention economy, you are going to conform to whatever concept has intersubjective mass. You do not create new things like that though. 
Conceptually speaking, what the heck is a Stoa? What can it be? Or maybe a better question is what does the daemon want it to be? 
I had a conversation with James Carse after one of his sessions at The Stoa and he told me that his family had deep discussions and debates around the dinner table when he was a kid, and his father referred to their dinner table as a Stoa. Well, it is probably more accurate to say that the dinner table itself was not a Stoa, but what the dinner table represented when those conversations happened was a Stoa. 
This thought expanded the concept for me. Maybe this thing I am midwifing is something wider than a potential business venture. In the conceptual sense, a Stoa can be seen as a space that demands a considered relationality with the state of unknowingness and with others.  
If this is the case, it could appear anywhere, and I wonder how much ontic real estate Stoa's can occupy. To repurpose Hakim Bey's Temporary Autonomous Zones (TAZ) concept, maybe Temporary Autonomous Stoa's (TAS) can start emerging. According to Bey, who is an anarchist, a TAZ is a space where hierarchy is temporarily abolished, and where the restrictions that society imposes can be shed, and new ways of being can emerge.
In contrast, a TAS is not about abolishing hierarchy, even though the essence of equality is a primary feature, nor is it focused on the anarchist goal of escaping societal rules. It is more about setting the conditions and parameters to get into the right relationship with unknowingness with others. Maybe a Stoa is the container needed for dialogos to emerge. 
I will probably need to reflect on this more, as this is just a messy daemonic sketch, but fun ideas are already emerging from this: maybe a Stoa board game could be developed for example, or an "alternate reality game" could emerge, one that encourages unknowingness to colonize dinner tables across the world.
***
The Stoa has hosted over 300+ free events since the pandemic started, and it will continue to do so, but it could use your support to continue to do so with quality and integrity. Support The Stoa @ https://www.patreon.com/the_stoa