The Language of Status
Tomorrow's events
A 21st Century Vision of Wisdom w/ Gregg Henriques. October 8th, 15th, 22nd, and 29th. 2:00 PM ET. RSVP here. 75 mins.
Newly posted events:
Reflective Structured Dialogue w/ Jill DeTemple. October 20th @ 2:00 PM ET. RSVP here.

Sex, Drugs, and Social Justice w/ ContraPoints. October 26th @ 6:00 PM ET. RSVP here.
An event to get excited about:
Community During COVID: Creating an Unlonely Planet w/ Jillian Richardson. October 12th @ 12:00 PM ET. RSVP by clicking the image below.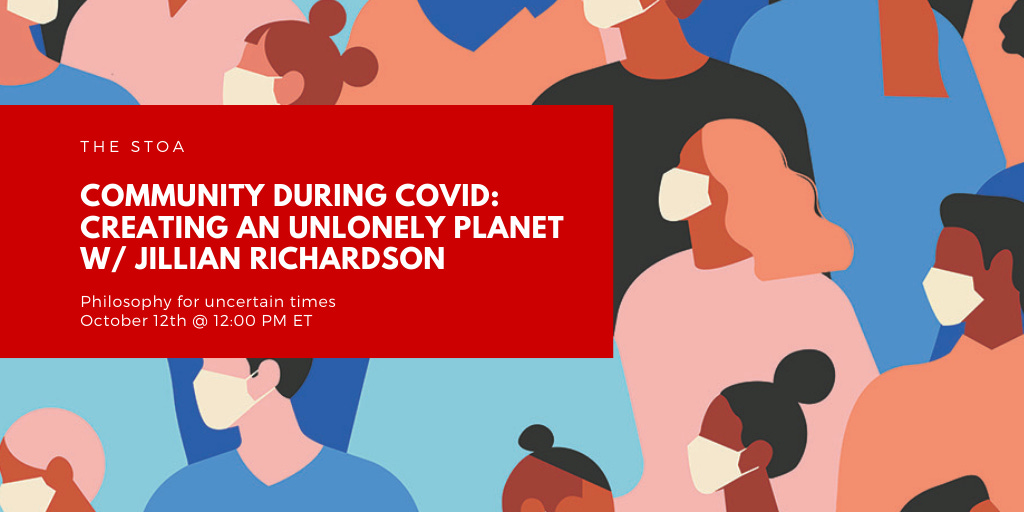 Jillian Richardson, the author of "Unlonely Planet: How Healthy Congregations Can Change the World," visits The Stoa next week to discuss how COVID serves as an opportunity for us to create an unlonely planet.
***
October 7th, 2020
Keith Johnstone is coming to The Stoa. 
Keith is the pioneer of improv, and he is an absolute legend in the field. So it feels like a big deal getting him. He was also influential to the post-rationalists (or "postrats" for short), and they were freaking out when I announced it on Twitter yesterday …
"NO FUCKING WAY?!?!?!"
"Omgomgomg"
"Holy shit!!! What a massive get"
"Who's next, Christopher Alexander? Holy crap"
In an email somebody wrote: "Jesus H. Christ on a Popsicle Stick. Keith Fucking Johnstone??!! Dude - don't you have fucking limits?!"
He went on to say: "Seriously, man. I don't know how you do it. Some crazy gravitational force you've got going on."
What the daemon wants, the daemon gets. But seriously, it is a cool thought that The Stoa now has a gravitational force about it. It may be prudent to cultivate the sense that there is indeed a gravitational force, which will probably create one. It is wise to be cool about this though.
Of course, I am listening to the daemon, but how I am pulling these big names in is thanks to the lessons from Keith Johnstone. He is the man who taught me the language of status. Yes, if you want to learn about social dynamics, you read books like How to Win Friends & Influence People, but the deeper lessons come from books like Chimpanzee Politics: Power and Sex among Apes by Frans de Waal, and of course Keith's epic book, Impro: Improvisation and the Theatre.
These books teach you about status, in a very deep way. Speaking this language helps you start recognizing what status level you are unconsciously playing in various social contexts, and it allows you to see what status levels others are playing. It is also important to keep a close eye to what people use to play their status. It could be their ideas, their material or positional success, their physical beauty, and yes, it can even be their meta-awareness of status... be careful steward, I am watching you!
I have developed status aikido moves, to disarm those who have an egoic hunger to be higher status than others. The obvious example is the alpha male types. The pickup artists, who I've studied, have many techniques to disarm these guys, which they call the AMOG (Alpha Male Of Group). 
It is good to be contextual here, which the pickup artists are, because an alpha male of one group will not necessarily be the alpha male of another group. As well, my use of the word "aikido" was pretty intentional. In most cases it is wise not to do harm. Allowing a person to "save face" is absolutely key, and if you were to study any sociological concept, you want to study the concept of "face."
You do not need to know these concepts though, or even have a meta-awareness of all these social dynamics, in order to be good at them. To use John Vervake's language: you can have "propositional knowledge" and not have "participatory knowledge," and vice versa.
I can sniff pretty quickly when somebody lacks social discernment, and oddly enough, it is usually people who talk about all these things on a propositional level who lack social discernment. Learning about them in books is one thing, and actually experiencing them in the interpersonal wild, or through the exercises of Keith Johnstone, is another. 
There is also a difference between social power, one's level of influence, and one's status, and yeah, if you can speak the language of status, and leverage it carefully, then you can increase your social power. It is important to have a sensitivity of the two though, and how they interplay with one another. I find with my younger friends, there is great status-deafness. Their youthful narcissism usually makes them act with higher status, in a way that embarrassingly does not match their social power, nor increases it. 
So yes, I am very aware of all of this stuff, on both a propositional and participatory level. I am not saying I am a master at it, as I have a lot to learn, but this knowledge does afford me to be emotionally untethered from status, and it affords me to authentically play with it. I have some status, and frame is king, and how you frame your status is important. 
Being able to speak the language of status, you will also be sensitive to what types of status "speaks" to certain people. I am going to signal different aspects of my status (or The Stoa's status) differently to a guy like Keith Johnstone, than I am to a guy like Noam Chomsky.
We have some great guests coming on, and the gravitational force is doing its thing. Natalie Wynn (ContraPoints) has agreed to come on, and I will be posting that event today. As well, Shinzen Young has agreed to come. Natalie and Shinzen are "big deals" amongst certain circles, the woke and Buddhistic tribes respectfully.
Memetic tribes care about status as well, some tribes freak out about the fact that Keith Johnstone has come on, as the postrats did, and most will not. The memetic tribe who is going to get excited by ContraPoints is not going to care much about Shinzen Young, unless the particular individual has some memetic tribal cross-over. 
The Modern Stoicism community—which I am tangentially a part of at this point—does not come to The Stoa, most do not even know about it. The reason why is I am not triggering their status radar, because I am not inviting many Stoic authors. Given my connections to the Modern Stoicism movement, these would be the easiest people for me to get on. But this place is not about Stoicism, this place is about something else. If anything, the pseudo-Stoic aesthetics is just to buy us some time. 
The Stoa is now perceived as having status amongst some, and I sense maintaining a certain juxtaposition will be important—have a zero fucks given production value, along with an anti-marketing strategy, coupled with an impressive guest-line up. 
I say this because this is not about "clout chasing," which I do not care about. Oh sure, my ego did a little heel click when I saw people freaking out about Keith Johnstone coming on, but the daemon is not asking me to live for egoic heel clicks, despite how pleasurable they are to do. 
In any case, this phase of The Stoa is coming to an end now, whatever you want to call this phase. Maybe the "minimum viable status" phase. I am pretty confident now that we can get on most people we want to get on. The type of people we want to get on are the people who are influencing the architecture of the noosphere. We do not need those who are capitalizing on its existing structure, such as the Logan Pauls of the world.
I am going to rest for a while now, and put my mind back into a liminal state, to see what wants to come next.
***
www.patreon.com/the_stoa