Discover more from Less Foolish
The writings and experiments of Peter Limberg.
Over 7,000 subscribers
Thumos Anthropomorphized
Tomorrow's events:
Stoic Breath w/ Steve Beattie. Every Wednesday @ 7:00 AM ET. RSVP here.

How Feeling Beliefs May Be Sabotaging Your Entrepreneurial Success w/ Doug Tataryn. October 7th @ 12:00 PM ET. RSVP here.

Social Design Club w/ Freyja and Joe Edelman. Every Wednesday @ 1:30 PM ET. RSVP here. Join the club here. 90 mins.
Newly posted events:
An event to get excited about:
Raw Relationships w/ Maybe Gray and Cody Taft. October 11th @ 6:00 PM ET. RSVP by clicking the link below.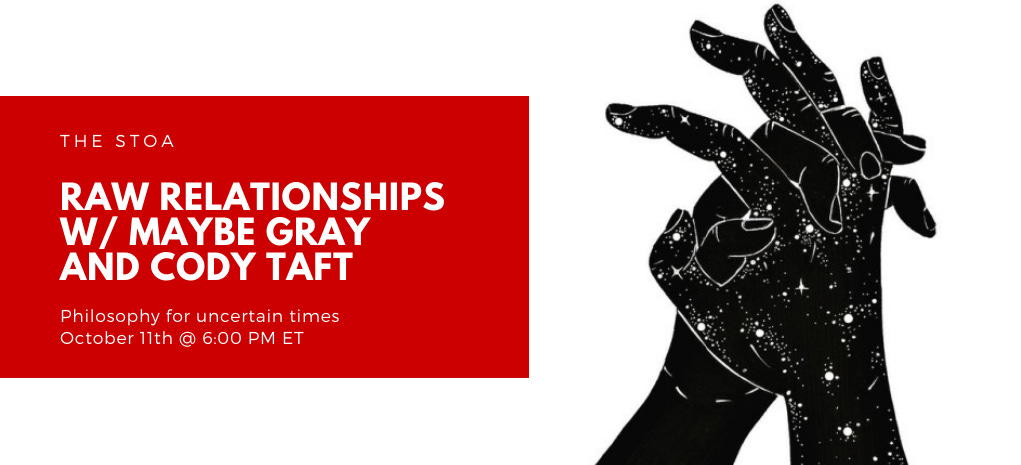 Maybe and Cody put themselves at the edge of their own thinking and invite you to join the conversation they feel least ready to have. The rawest yet of The Stoa's series of raw events.
***
October 6, 2020
I want to write one of those emotional entries, where I get lost in the words, and become captivated by the adventure of writing itself. There is an adjacent desire that is saying: Ah man, do I have to do this? My espresso has not even kicked in yet. 
I am listening to Sunset Rubdown at the moment, and the song is You Go On Ahead (Trumpet, Trumpet 2). If my personality had a song, it would probably be this one. This is probably my favorite song at the moment. It has that sweet Canadian innocence, with a touch of earnest chaos, and a playful madness. It is making me think of my dear friend, Saint Christoph, that holy wild man.
He has not even visited The Stoa yet, probably because he is too busy making love with women, or getting into street fights, or whatever delicious trouble is calling him forth. He is thumos anthropomorphized, and I am very glad he lives in Vancouver at the moment, because we'd probably be drunk at the moment. 
I remember our adventure in 2014 fondly. 
I was very uninspired at the start of that year, goldbricking my way to a paycheque, in a normie job, in a windowless office. I was having resistance to pursuing goals, or doing anything meaningful really. I started experimenting with Carl Jung's "active imagination" exercise, and ended up doing this journaling exercise where I summoned two of my subpersonalities, then I allowed them to "talk" to each other in a free-associative way, which ended up looking like a surreal screenplay.
There was one particular entry that was influential. I always delete my private journals, so I have no record of it. The memory of this one is strong though. I summoned the part of me that was akin to what Steven Pressfield called the "Resistance," which is his term for a mythical force that acts against human creativity. 
I put this Resistance in dialogue with the part of me that was strongly aligned with the daemon. Those two went at it. The conversation was chaotically swaying back and forth, and it seemed like they disagreed on everything. It was unpredictable what would result from the exchange, my mind was in the liminal, and I was up for grabs. Then something surprising happened—they agreed.
And they agreed on something surprising: go backpacking across Europe. It was a compromise for both, but it seemed to resolve something internally. The essence of the agreement was this: have something adventurous to look forward to, so the hard-work you want to do does not seem so laborious.
If a man must go to Europe, he must go with Christoph. Besides, Christoph and I were fantasizing about going to Europe since the beginning of our friendship. So that was that. I somehow got a month off work, and Christoph did not need much convincing. We had a back-of-the-napkin plan of where to go, booked no return flight, and we flew out to Ireland. 
Now I cannot talk about the rest of the trip of course, because this steward needs to maintain some semblance of respectability. Let's just say that thumos had a chance to do what it needed to do. I think the reason this has been coming to mind lately is because I am having another "let's go to Europe and let the thumos loose" moment. 
The Stoa now has established a seed salary for me, thanks to all the beautiful people supporting this project. It is so weird really. I basically made up a career path: being a steward of a digital campfire, which has a job description that includes many esoteric things, like sangha whispering and culture heisting. This being said, there is a lot of work involved here, and I am sensing into the work ahead, and I am sensing it is going to be intense.
Somebody emailed me: I do not believe that The Stoa wants you to sacrifice yourself on the altar of its expansion. Yeah, true. But when I do things I like to do things right, and it is not so much about expansion, but about making this thing as beautiful as it can be, whether it becomes big or stays small.
That being said, I would like to have some raw adventure to look forward to, an adventure that allows my thumos to be expressed in the purest way. I sense it is good to have something to look forward to like this, to inspire you to work at what is beautiful, especially in those moments where things get difficult, and things will get difficult. 
Christoph and I have been dreaming up another adventure for the last few years. We want to motorcycle across Ireland for a month, including Northern Ireland, then maybe do something stupid like jump on a plane and go run with the bulls, then realize the ethical consequences of doing so, and then do something stupid like try to rescue the bulls. 
Thumos needs an outlet. It is a wild force, and sometimes it is hard to channel it into the daily work of responding to email, editing videos, or writing event descriptions. I might be too old now to go on such thumos-filled adventures, but the thought of it being a possibility is inspiring. 
Besides, Christoph, who I am sure is here reading this, is probably going to do something Christoph-like and buy us some plane tickets to Ireland after he reads this.
***
patreon.com/the_stoa