Discover more from Less Foolish
The writings and experiments of Peter Limberg.
Over 7,000 subscribers
Wanting to See Red
Tomorrow's events:
Embodied Book Club: Collective Presencing w/ Ria Baeck. Every Saturday from October 3rd to November 7th @ 12:00 PM ET. RSVP here. Review the information sheet here. 

The Glass Bead Game w/ Laurence Currie-Clark and The Arch. Every Saturday @ 6:00 PM ET. RSVP here.
Newly posted events:
High Pitch: Conversations in New Key w/ Bonnitta Roy, Nora Bateson, Ria Baeck, Miriam Mason Martineau, Ece Utkucan Anderson, and Schuyler Brown. October 22nd @ 12:00 PM. RSVP here.

MetaGame: A Game B of Sorts w/ Peth. October 27th @ 12:00 PM ET. RSVP here.
An event to get excited about:
Escaping Narcissism: A Rite of Passage to an Entangled Humanity w/ Theodore Taptiklis. October 13th @ 8:00 PM ET. RSVP here.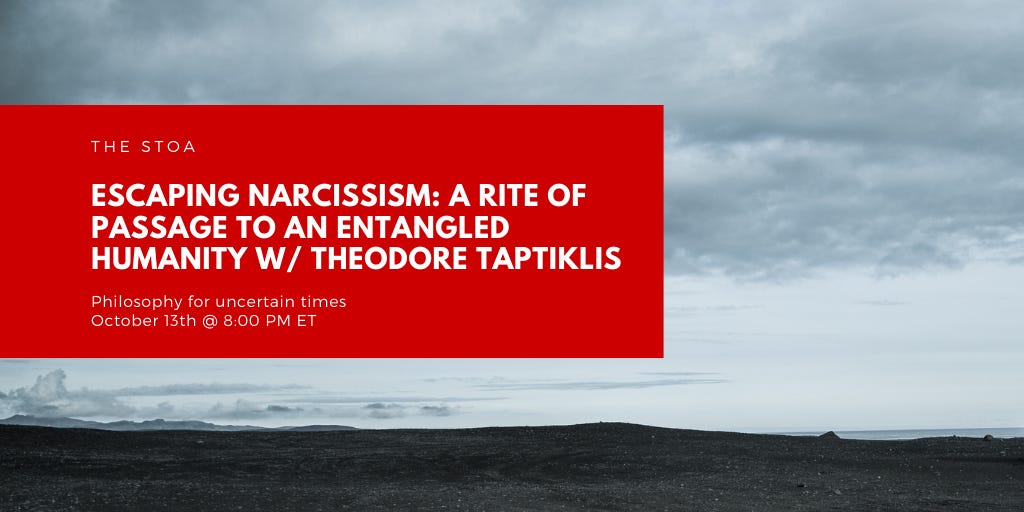 Theodore Taptiklis visits The Stoa next week to discuss the "5 Graces" and the practice of "Entangled Bodies." You can read more about it here: Part 1, Part 2, Part 3.
***
October 9, 2020
It has been a while since I was in a physical confrontation. Or said in a more "manly" way—it has been a while since I've gotten in a fight. 
It was years ago. I was drinking in a local bar with my brother and two of his female friends, and there was a guy there looking for trouble. When we were all leaving, this guy started to verbally pick on my brother. My brother was really drunk, and he is a very sweet guy; he is not the type of guy who gets into fights.
Now us men size up other men all the time, in a physical way. It is automatic. And when I automatically sized this guy up, the following thought emerged: I could take him. I intuitively knew he was going to start something with my brother, and he was on "looking for blood mode," so none of my charm tools would work.
I had to deflect his attention away from my brother and put it on me, so I started teasing him in a way that would do so. He became fixated on me, and wanted to fight. He followed us to the car, and I made sure my brother and the girls safely got in first. I went in and he stopped me from closing the door.
Then he made an odd request, that showed me he had some character. He told me to take off my glasses. I was wearing eyeglasses at the time, and I knew he asked me to take them off so he could punch me without breaking them. 
Now my mind rushed to the options. I could try to rush him, but I was at a positional disadvantage and he'd get some punches off, and may break my glasses. Alternatively, I could do what he said, and take off my glasses, and take his punch. I decided on the latter, and calmly took off my glasses, and sure enough, he punched me in the face.
I am usually your calm and collected Stoic, but if I get punched in the face, then I go ape-mode. When in ape-mode a man becomes primal, and does not do much thinking. I immediately got out of the car, and he may have gotten in a few other punches but I do not remember. I do remember grabbing him and throwing him to the ground.
I got on top of him, and then I had my options. I could have started punching him, but for whatever reason I decided to wrap my hands around his neck and start choking him. The girls came and were telling me to let him go, and I did let him go, before his face started to go red. 
The primal part of me really wanted to see red. 
After I let him go, he popped back up and started to talk tough, but he did so now from a distance. I knew he was not going to do anything anymore, so I got back in the car, and we drove away.
While I was the one who left with a bruise on his face, I was also the one who left dominating another man, and that felt good. It even feels good now reflecting on it.
There is some hesitancy in my sharing this story, for impression management reasons. It feels like I've shared my sensitive side more here, where I romantically drink cortados while listening to indie-rock and longing for communitas. But there is also a side of me that would enjoy fucking another man up.
There is a quote I like from H.L. Mencken, which I referenced before in a previous entry: Every normal man must be tempted at times to spit on his hands, hoist the black flag, and begin to slit throats. There is another one from Robert E. Howard I like: Not all men seek rest and peace - some are born with the spirit of the storm in their blood.
Yes. There are moments when I feel the storm in my blood, and it wants me to spit on my hands. Each of these journal entries are different, and each day there is a different topic, and feel. I am not really planning this. I am just being me, and trying to bring forth me each day, with all the complexities and seeming contradictions that I contain.
We are all complex, with our secret desires and primal urges. I agree with Carl Jung's words on this matter: I'd rather be whole than good. Carl also said: No tree, it is said, can grow to heaven unless its roots reach down to hell. 
All of this is to say that we have primal urges which can be very violent, physically or psychologically. And these primal urges can turn dark, if we do not acknowledge them, and fail to get into the right relationship with them. So it is wise for us to acknowledge them, in the right way, if we want to be whole.
I do not vibe that much with the spiritual California scene. I do appreciate the wisdom that scene has, and the spiritual capacities they have developed, along with all the cool gems of insights they share. And there are a lot of cool people in it, and I am friends with many.
But yeah, I do not vibe with the scene. There is too much softness there, and it seems to attract sensitive temperaments. If we are going to create a new world, a Game B world, where these rivalrous urges are not steering the collective ship, we need to figure out how to contend with these urges.
I sense a bias formed in this scene, because their vibe does not attract too many men with the spirit of storm in their blood, hence a kumbaya world view forms. I also do not vibe with woke tribes, despite some of my propositional alignment with them, because intentionally or unintentionally they shame these urges away through their approach. That is not going to work, that is just going to encourage primal forces to go underground, which is to say it will make these forces go dark.
If you have been reading these journals from the start, you'll get the sense I really dig women. I love being in the company of women, and I like to be firm in holding space in such a way that allows me to feel into their presence. And yes, I am wildly attracted to many women, sexually and emotionally, and I am not apologetic about this. It is better to acknowledge this, which is ultimately better (and hotter) for my monogamous relationship.
I also have great homosocial love for the men in my life. I think they are awesome. I especially like the men who have a storm in their blood. I secretly like those old postwar pulp men's magazines, which had these covers of manly men punching Nazis and wrestling with snakes and other ridiculous things like that. 
Sure, they are full of sexist tropes, but this is not about cancelling the historically problematic. This is about seeing what these magazines were speaking to, and they were speaking to the innate desire that many men have for violence, trouble, and adventure. 
In The Moral Equivalent of War, William James argued that war, despite how terrible and ugly it is, helped breed certain martial virtues, and without war, these martial virtues tend to go away. If they do go, a society will become soft, and lose its will. To use my previous coinage, the Last Man Syndrome will spread.  
If true, that these martial virtues are sublimated primal urges, how do us metamodern masculine males get into the right relationship with our primal side and obtain these virtues? Sports are an obvious option. "Men's work" is another, which includes lots of male-specific shadow work. 
I sense something more is needed though. I sense a philosophy that places emphasis on virtue is needed. We are in a meta-crisis after all, and this is a crisis that war, sports, or men's work alone cannot solve. How can men virtuously sublimate their stormy blood in service towards solving the meta-crisis? 
I am reminded of the wise words of Marcus Aurelius: No man can escape his destiny, the next inquiry being how he may best live the time that he has to live.
***
patreon.com/the_stoa