Wild Reasoning
Tomorrow's events:
Mental Models w/ Peter Wang. September 4th, 11th, 18th, and 25th. 10:00 AM ET. RSVP here. 

Socratic Social w/ The Stoa Village. Every Friday @ 7:00 PM ET. RSVP here.
An event to get excited about:
The Alexander Technique w/ Michael Ashcroft. September 26th @ 12:00 PM ET. Click on the image to RSVP.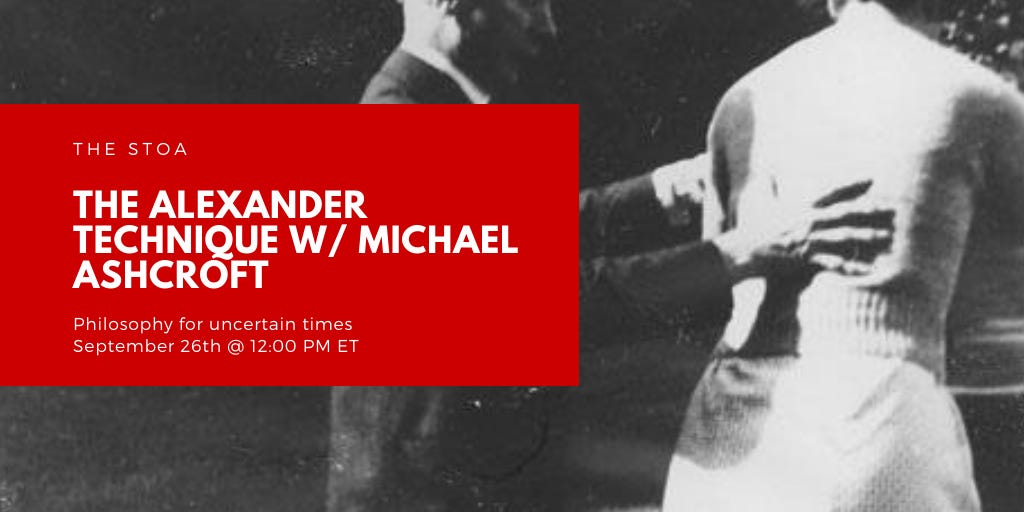 Michael Ashcroft visits The Stoa on Saturday to introduce the Alexander Technique.
***
September 24th, 2020
Nice. The band Still Corners has a new song, called The Last Exit. It is worth listening to. They are a "dream pop" band, and their songs have this airy quality, making your body feel like it wants to float off the ground when listening.
Today is one of those days when I am sitting down without a clear idea of what I will write. I am having one of these moments, at the moment, where all these topics are competing against each other in my mind. One comes up, and says: write about me. And then another comes and body-checks them out of the way and says: do not listen to that fool, I am way more interesting. They are aggressively competing for the next sentence, because they know the next sentence will influence where I go.
In moments like these, when things are not clear, I like to go meta and float above it all. This affords me to write about the intrapersonal dynamics going on. Doing this buys me time, but I have a deep trust in doing this. The topic that needs to come, will come, when I am truthful to what is most alive, and what is most alive now is witnessing the intrapersonal dynamics going on, and giving words to them.
When I finished writing the above, somebody sent me an email about my suggestion yesterday of having courses on reasoning at The Stoa. They argued that having these would support a modernist worldview. I am glad I was buying myself some time, because this is a topic that feels alive.
It might not be clear at times, given all my intellectual jazziness, but I do not belong to an anti-reason school. If anything, I'd like for reason to be set free. When I see people teach reasoning, I see them teach it within a certain frame, which leads learners to reason in predetermined ways. For example, two schools I see teaching reasoning are from Christians and Atheists.
The Christians teach it through Apologetics, and the Atheists do so through "critical reasoning" courses. They probably do not explicitly state this, but I sense they both teach reason in a way that conveys the following: if you reason well you'll obviously become a Christian or an Atheist. 
Now, my previous suggestion on having reasoning courses at The Stoa is more about co-opting some of the best practices of these teachings, to repurpose them. Maybe we need to have a rewilding of reasoning, or a wild reasoning, a kind of reasoning where it is not obvious beforehand where our reasoning will take us. This is not a kind of reasoning that is meant to only "deconstruct" what is, but to also construct what wants to be.
I will need to reason this through some more, but I like the idea of reasoning without a goal, and reasoning for its own sake, to see where your reasoning will take you. I explored this wild reasoning idea before with Davood Gozli via Letter, and this passage sums it up: 
It's clear to me, both denotatively and connotatively, that wild reasoning is not in service to institutional status, tribal affiliation, or profane belongingness. I would also argue that it is not even in service to truth, the coveted value to which so many academics pay lip service. I sense that wild reasoning has a different master: that of adventure.
This is not to say that wild reasoning will not lead us to truth. Wild reasoning is about the adventure of reasoning itself, where truth and untruth can be rewards and hazards that occur along the way.
***
The Stoa has hosted over 300+ free events since the pandemic started, and it will continue to do so, but it could use your support to continue to do so with quality and integrity. Support The Stoa @ https://www.patreon.com/the_stoa